Your solution specialist in test fixture construction.
ATX is Europe's market leader in the production of test adapters for electronic test procedures. As a specialised solution provider, the company designs and produces customised products in semi-automated individual and small series production. Most of the devices are precision-engineered one-offs with varying degrees of complexity. Customers use the products for in-circuit, functional and final tests of electronic assemblies and PCBs. ATX stands out from the competition in particular due to its high level of innovation and quality. As a medium-sized company, the ATX Group employs over 170 people at two locations in Upper Bavaria (Pürgen) and Baden-Württemberg (Weil im Schönbuch).
Showroom
Let us convince you of our test adapters in our showroom. We always display our latest devices for you and offer you the opportunity to test them in advance and get to know their individual properties even better.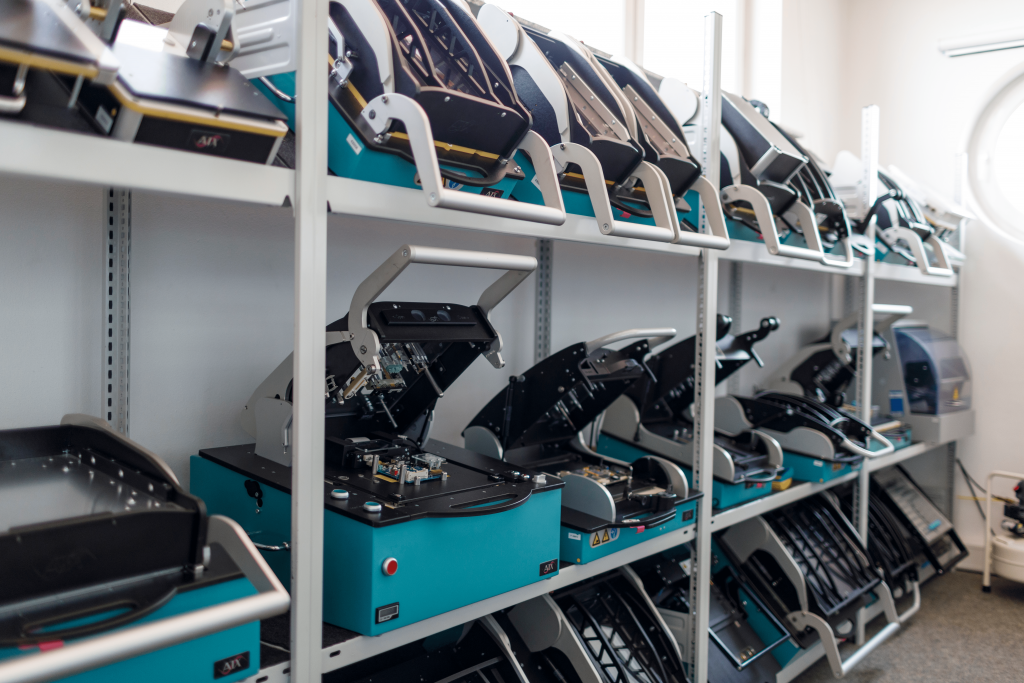 Let us convince you of our test adapters in our showroom. We always display our latest devices for you and offer you the opportunity to test them in advance and get to know their individual properties even better.
One company. Many stories.
We grew with the tasks, so quantum leaps were inevitable.
ATX grew faster than almost any other company in the fixture industry. There are good reasons for this: For us, it has always been a matter of course to meet demanding and innovative requirements. This quickly made the rounds among our customers. And so we were always able to take on exciting tasks, which we then grew dynamically and yet also sustainably. Every year, ATX produces, tests and implements up to 2,000 test devices. This is just an impressive example of our success.
2022

Robert Schulz and Markus Rauch join the management.

2022

The company logo undergoes a relaunch, giving it a modern and contemporary touch.

2022

ATX celebrates its 25th anniversary. As of today, 170 employees belong to the ATX Group.

2021

ATX acquires a majority stake in Leitec Test Solutions GmbH ("Leitec").

2020

Harald Quandt Industriebeteiligungen acquires majority stake in ATX Hardware GmbH.

2019

In total, ATX employs over 150 people at both locations.

2018

ATX uses its own developed software for the controlled setting of hold-downs.

2016

ATX expands the storage area at the Pürgen site by another 500sqm.

2014

ATX takes over the complete adapter construction of Feinmetall (FM). Jointly conducted customer visits enable FM customers to be integrated into ATX to the greatest possible extent

2013

The 2nd production site in Weil im Schönbuch has an extremely successful track record and is transferred to a 100% subsidiary of ATX Hardware. Now the independent company operates as ATX Hardware GmbH West. The signs point to expansion, as the comprehensively positioned ATX subsidiary offers many customers in Baden-Württemberg short distances and perfect services in addition to optimal technological performance.

2012

Already 2 years after its generous expansion, the capacities of the production department at the Pürgen site are no longer sufficient. The renting of another 240 sqm of storage space opens the possibility to upgrade the already existing warehouse for production lines and to connect it to the production. ATX's efficient CNC production is extended by 100 sqm through this important measure.

2011

ATX opens a second location for fixture production in the community of Weil im Schönbuch near Böblingen. The successful and completely modernized production in Pürgen serves as a model.

2010

The production department at ATX is expanded and completely modernized. The workforce includes over 80 employees. Well over 10,000 devices have been delivered to customers all over the world since 1997.

2009

New office space (160 sqm) will also be rented in the neighborhood for the administration department, while the vacated space will be used for production.

2006

ATX continues to grow rapidly. 180 additional square meters rented in the neighboring building help to accommodate the ever-growing sales team.

2005

In addition to the company's representation in the Benelux countries, a representative office is now also being established in Italy.

2004

ATX now also offers its customers the efficient on-site service, which allows fixtures to be serviced directly and efficiently at the customer's premises.

2003

The production and office space in Pürgen is expanded to 1,220 square meters through the construction of an additional building.

2002

The fixture-building division of Siemens AG in Augsburg is taken over by ATX with its employees and technical equipment. A new warehouse is built at the company headquarters.

2000

Our company moves and gets the perfect new location with a customized company building in the industrial area of Pürgen.

1998

A.T.i. Hardware GmbH changes its name to ATX Hardware GmbH.

1997

Foundation of A.T.i.-Hardware GmbH, Eching, by Hans Drexler and Benedikt Epple.