Your solution specialist in adapter construction
Compact. Specific. For every industry.
ATX designs, engineers and manufactures high performance test fixture kits for all industries where electronic assemblies need to be contacted and tested. Our customers are EMS service providers and manufacturers of assembled electronic assemblies and components in almost all electronics industries. Our range of adapters includes LHS² linear lever clamps, mechanical adapters, pneumatic adapters, RF adapters, inline adapters, vacuum adapters and fine pitch adapters. 
Usually, the DUTs to be tested are assembled PCBs that are contacted for a so-called ICT test (in-circuit test) on all or only on some defined networks for a functional test (FKT). Beyond these typical test scenarios, we also contact already housed assemblies - usually via the connectors with special connector contact modules. This test variant is called end-of-line tests (EOL).
Our mechanical adapters are mostly used for FKT tests, the vacuum adapters mostly for ICT test series. The difference lies primarily in the number of needles: approx. 200-5,000 needles are used for ICT, approx. 50-200 needles for FKT. Our inline adapters for automatic lines are suitable for both ICT and FKT tests.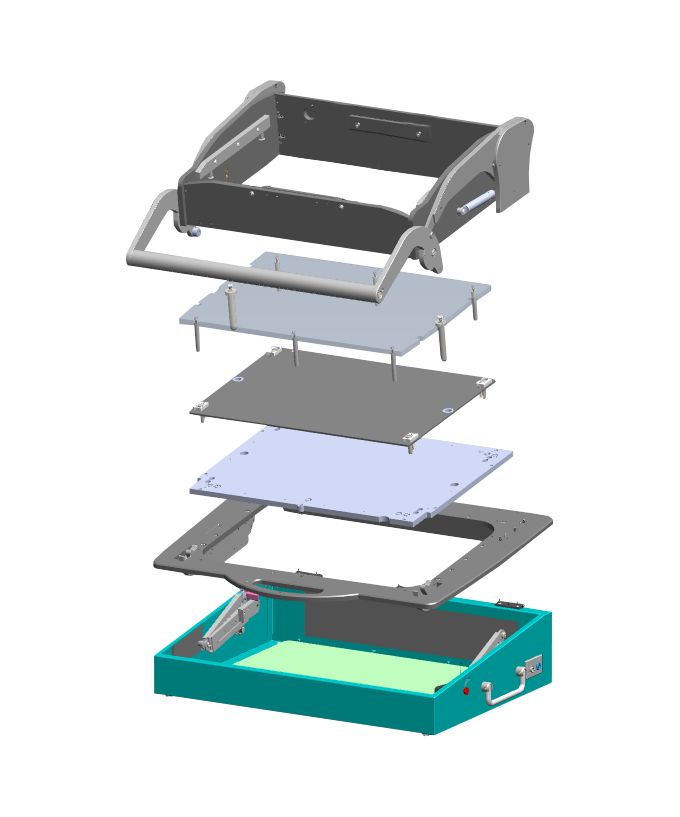 Individual. First class. Special solution.
Our adapters are made up of the following components:
Cover
Hold-down plate
Moving plate
Pin plate
Frame plate
Housing
Together with you, we manufacture your individually perfect special solution. Each of our product developments begins with an in-depth consultation. Our sales professionals come from manufacturing or production and are extremely technically experienced. They want to get to know the customer's requirements precisely in order to be able to use ATX's design know-how and production performance in a targeted manner. The development of technically first-class special solutions that prove themselves in practice on a daily basis is one of our favourite disciplines, where we can fully apply our creativity. All our excellently qualified employees apply their knowledge with personal commitment and thus ensure maximum customer satisfaction.